Have you ever wondered how large of an operation is needed to fulfill all of Amazon's orders at a rate that is 50% faster than all its retail competitors?
Meet Amazon's Multi-Channel Fulfillment, a growing and strategic part of Amazon's business.
Like most of Amazon's services, once they have figured it out for themselves, they productize it and sell it to the open market, similar to Amazon Web Services (AWS).
Amazon MCF is a third-party logistics (3PL) solution that enables you to leverage Amazon's fulfillment network and team of experts to pick, pack, ship, and deliver your customer orders from off-Amazon sales channels.
---

2000
~160M
1.27M
120K
10B
1.9
97%
99.98%
---
Part of the above exceptional performance is the investment Amazon has made in robotics that started more than 10 years ago. A typical Amazon fulfillment center contains fleets of robotic drives, autonomous mobile robots that transport goods.
Meet the robots
Hercules: A fourth-generation drive designed to navigate structured fields, floors that contain a grid of encoded markers. By reading the markers with its downward facing camera, it can find its position and the location of any pod.
Pegasus, whose name evokes the winged horse of Greek mythology, sorts parcels by zip code or delivery route.
Xanthus, named for the immortal horse that drew Achilles' chariot, also sorts but can do other tasks as well.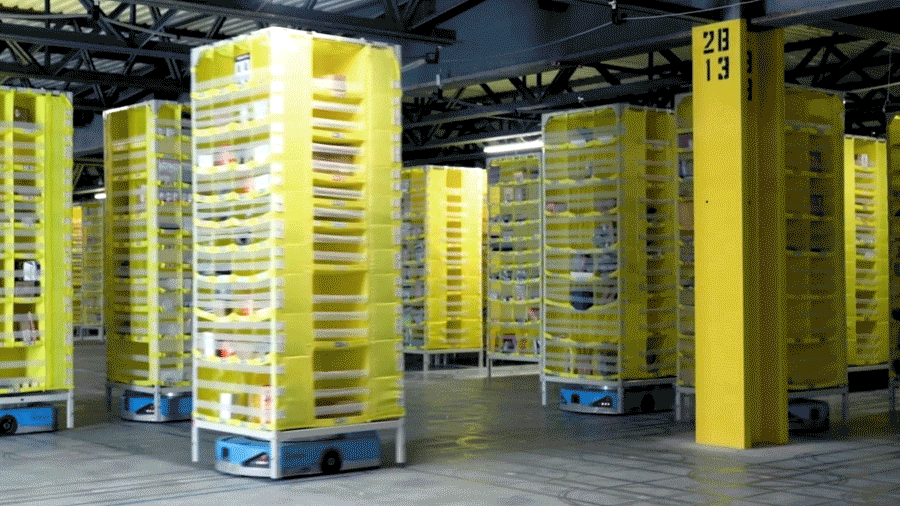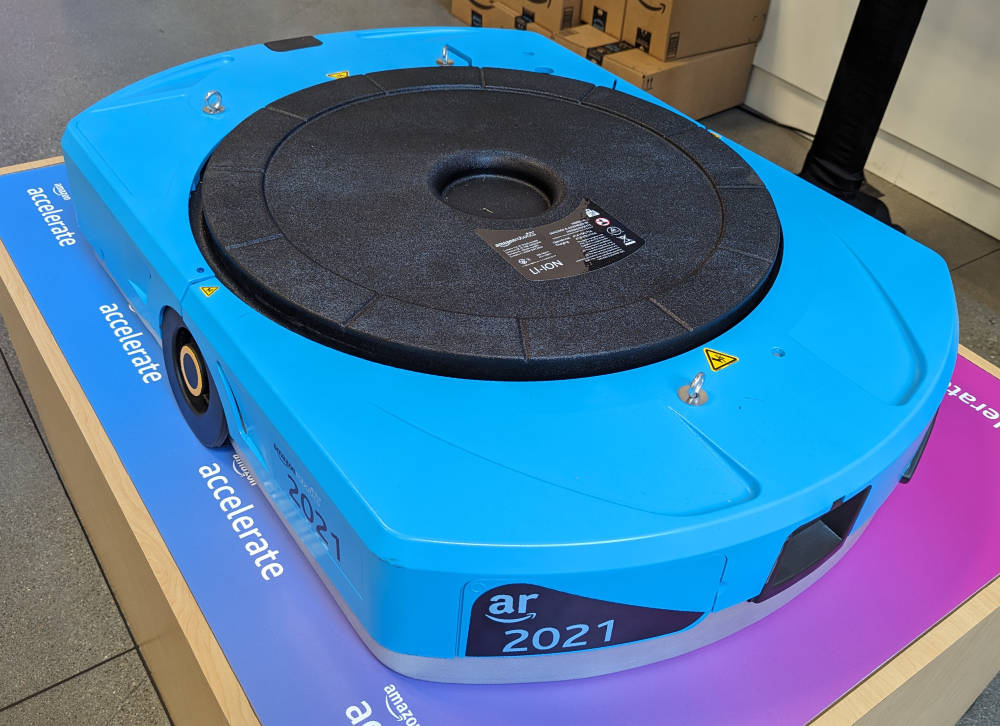 Amazon is currently using more than 750,000 robotic drive units around the world.
Hercules is used to pickup product shelves and deliver them to employees.
Robotic drive units leverage AI to create routes using 2D lines and barcodes.
Computer vision is used to inspect each inventory pod after delivery to ensure no products are at risk of falling out or placed in the wrong bin.
How MCF's inventory works
1
Send your inventory to Amazon
Ship your stock to one of Amazon's locations. Amazon will then distribute your stock across their network of fulfillment centers. This is part of their not-so-secret sauce for speedy delivery.
2
Send fulfillment requests via Amazon MCF's API
Build or buy a connection service that submits orders and checks on the fulfillment and delivery status of your fulfillment requests. Shopify have an app, or you can rely on other Order Management Solutions. One of my favorites for Amazon MCF is [Pipe17](https://pipe17.com
3
Amazon receives, picks and packs your order
As a merchant, you now have the ability to scale and perform like Amazon. Sit back and let them take care of the heavy lifting.
4
Amazon then delivers the order
Benefit from Amazon's speedy delivery service that is 50% faster than other retailers. Amazon just announced that they have launched a courier service, so technically you could get this part of the service without leveraging their warehouses for pick/pack.
A business example of an effective rate
6-12OZ
1/4CSF
10K
60K
$18,788
Let's assume you sell a product for $30 and that your average units per transaction is 2. You sell approx 10,000 units per month and the space that each product takes up is 1/4 of a cubic foot, each unit being between 6 and 12oz.
Your costs would be
Fulfillment cost per order: $5.49
Total fulfillment cost per month: $54,900
The blended storage cost for ~60k units each month (2 rates, higher for Q4): $18,787.50
Your revenue would be $600,000
Your margin cost would be ($67,950 / $600,000) * 100 = 12.28%
You can see that the cost per month for Q4 is 176% higher than Jan - Sept.
Jan - Sept monthly cost: $13,050
Oct - Dec monthly cost: $36,000
Annual Revenue: $7,200,000
Annual Total cost = $658,800 (fulfillment) + $225,450 (storage) = $884,250
---
Amazon drones: The future of delivery?
Below is an Amazon drone I snapped a picture of from this years Amazon Accelerate. Nothing official has been announced yet, but you can be certain that years of development have already been happening and that drone delivery will be a very likely method of fulfillment someday soon.
The obvious connection in autonomous delivery is the lower cost of delivery. With new autonomous tech like this, Amazon can make more margin and continue to be leaps and bounds ahead of the competition.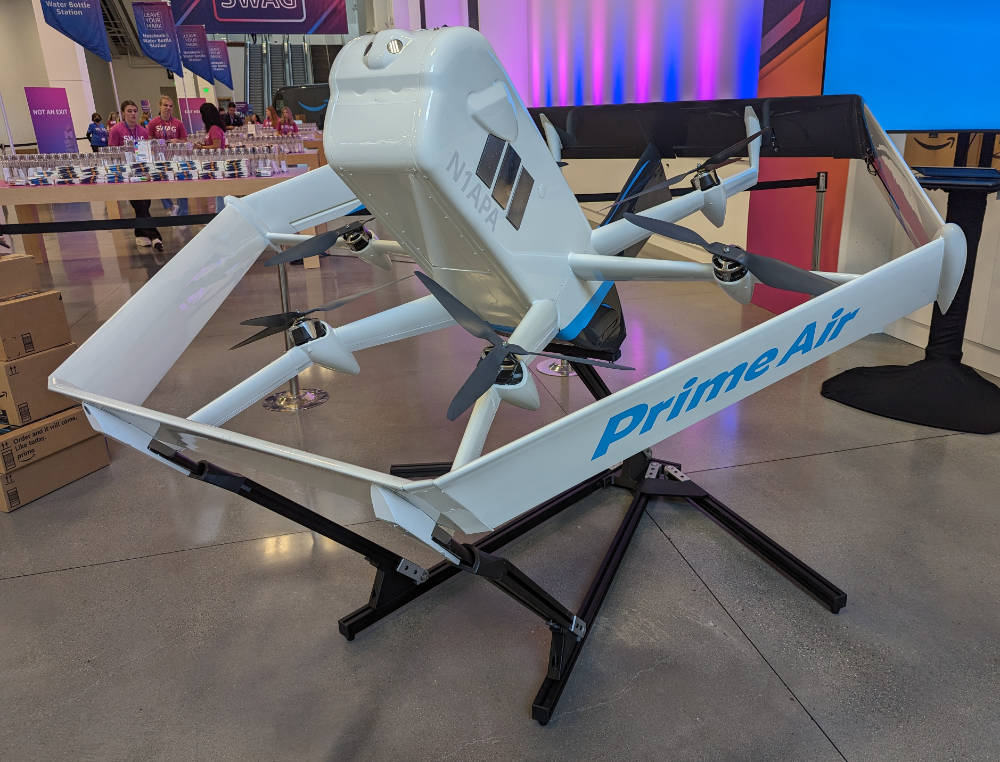 ---
Considerations for 3PL fulfillment
If you're experiencing unexpected or prolific growth for your ecommerce DTC channel, the importance of scalable operations for fulfillment cannot be overstated. Rapid expansion can put immense pressure on supply chains, inventory management, and customer service. Therefore, it's crucial to have an agile, scalable ecommerce fulfillment strategy in place from day one. This ensures that as your customer base grows, your operations can smoothly scale to meet demand without sacrificing efficiency or customer satisfaction. A well-planned, scalable fulfillment system can make the difference between capitalizing on growth opportunities and crumbling under operational inefficiencies.
There is a balance to strike between internal resources, organizational core competencies, the scale of your operation, the speed of fulfillment and the average cost per fulfillment.
---
If you're interested, you can see 2023's rate card info below or go download Amazon's rate card here.
2023 Standard Rates
| Size Tier | Weight | 1 Unit Order | 2 Unit Order | 3 Unit Order | 4+ Unit Order |
| --- | --- | --- | --- | --- | --- |
| Small standard | 6 oz or less | $7.15 | $4.92 | $4.19 | $3.72 |
| Small standard | 6+ to 12 oz | $7.80 | $5.49 | $4.72 | $4.23 |
| Small standard | 12+ to 16 oz | $8.25 | $5.70 | $4.88 | $4.38 |
| Large standard | 6 oz or less | $7.35 | $5.05 | $4.49 | $4.08 |
| Large standard | 6+ to 12 oz | $8.20 | $5.80 | $4.90 | $4.50 |
| Large standard | 12+ to 16 oz | $8.50 | $6.05 | $5.15 | $4.70 |
| Large standard | 1+ to 2 lbs | $9.50 | $6.65 | $5.88 | $4.75 |
| Large standard | 2+ to 20 lbs | $9.50 + $0.62/lb above first 2 lb | $6.65 + $0.55/lb above first 2 lb | $5.88 + $0.55/lb above first 2 lb | $4.75 + $0.55/lb above first 2 lb |
| Small oversize | 2+ to 30 lbs | $16.00 + $0.62/lb above first 2 lb | $11.79 + $0.55/lb above first 2 lb | $10.18 + $0.55/lb above first 2 lb | $8.62 + $0.55/lb above first 2 lb |
| Small oversize | Over 30 lb | $32.88 + $0.62/lb above first 30 lb | N/A | N/A | N/A |
| Medium oversize | N/A | $25.25 + $0.62/lb above first 2 lb | N/A | N/A | N/A |
| Large oversize | N/A | $118.80 + $1.16/lb above first 90 lb | N/A | N/A | N/A |
| Special oversize | N/A | $189.19 + $1.21/lb above first 90 lb | N/A | N/A | N/A |
2023 Peak Rates
| Size Tier | Weight | 1 Unit Order | 2 Unit Order | 3 Unit Order | 4+ Unit Order |
| --- | --- | --- | --- | --- | --- |
| Small standard | 6 oz or less | $7.35 | $5.12 | $4.39 | $3.92 |
| Small standard | 6+ to 12 oz | $8.00 | $5.69 | $4.92 | $4.43 |
| Small standard | 12+ to 16 oz | $8.45 | $5.90 | $5.08 | $4.58 |
| Large standard | 6 oz or less | $7.65 | $5.35 | $4.79 | $4.38 |
| Large standard | 6+ to 12 oz | $8.50 | $6.10 | $5.20 | $4.80 |
| Large standard | 12+ to 16 oz | $8.80 | $6.35 | $5.45 | $5.00 |
| Large standard | 1+ to 2 lbs | $9.80 | $6.95 | $6.18 | $5.05 |
| Large standard | 2+ to 20 lbs | $10.00 + $0.62/lb above first 2 lb | $7.15 + $0.55/lb above first 2 lb | $6.38 + $0.55/lb above first 2 lb | $5.25 + $0.55/lb above first 2 lb |
| Small oversize | 2+ to 30 lbs | $17.00 + $0.62/lb above first 2 lb | $12.79 + $0.55/lb above first 2 lb | $11.18 + $0.55/lb above first 2 lb | $9.62 + $0.55/lb above first 2 lb |
| Small oversize | Over 30 lb | $33.88 + $0.62/lb above first 30 lb | N/A | N/A | N/A |
| Medium oversize | N/A | $27.75 + $0.62/lb above first 2 lb | N/A | N/A | N/A |
| Large oversize | N/A | $121.30 + $1.16/lb above first 90 lb | N/A | N/A | N/A |
| Special oversize | N/A | $191.69 + $1.21/lb above first 90 lb | N/A | N/A | N/A |
Storage Rates
Non-dangerous goods products
| Month | Standard-size | Oversize |
| --- | --- | --- |
| January-September | $0.87 per cubic foot | $0.56 per cubic foot |
| October-December | $2.40 per cubic foot | $1.20 per cubic foot |